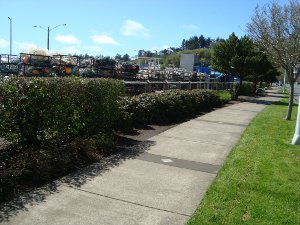 The Fishermen's Memorial Walk on the East end of Newport's Historic Bayfront District is a wonderful place to take a walk or make a stop when visiting Newport. The meandering walkway, constructed in 2001, begins at Englund Marine and ends where it meets the boardwalk that runs along the harbor.
Tiles commemorating Newport fishermen who were lost at sea are spaced at intervals throughout the walk. Each tile lists the name of the fisherman lost at sea, the date and the F/V (fishing vessel). There are over 100 recorded fishermen from Newport who were lost at sea, with the oldest recorded in 1920 and the most recent in 2007. Moored fishing boats and rows of crab rings along the walk act as a backdrop for this special area of the Newport Historic Bayfront and as a reminder of the work these men did.
In addition to the Fishermen's Memorial Walk, the Fishermen's Memorial Sanctuary at Yaquina State Park serves as a place to honor the fishermen lost at sea. For more information on the Fishermen's Memorial Sanctuary, visit the Newport Fishermen's Wives website.